Looking for a gift idea? Surprise a friend or a relative with our gift card! Gift cards are available in your choice of value for use as payment for our services.
Gift cards are valid for three months from the time of issuance.
Gift cards can be bought in person at our salon or online through the internet. To buy in person please contact us.
To buy online make a payment in your chosen gift card worth/amount to our bank account:
Massage Therapy OÜ
EE891010220225992226
Add your e-mail address as the explanation/message. We will send you a printable gift card within 24 hour hours of payment receival. If any questions or problems arise, don't be afraid to contact us.
Gift cards looks like this, and come together with suitably sized envelopes: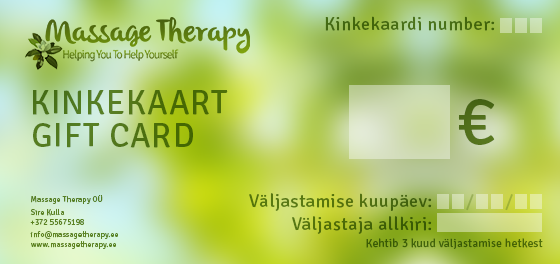 Size: 210mm x 99mm (A65)